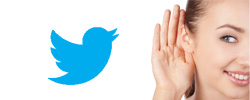 The social media landscape is expanding at epic rates and most businesses are keen on joining in and enjoying the benefits. However, before you leap in with both feet, its important to consider what you're getting into.
Many businesses fail to realize that viral marketing can work against them just as quickly as it can work for them. Marketing campaigns can blow up and a hashtag can easily become a "bashtag". Consumers are more likely to spread the word about a bad experience than a good one, and as we know all too well, bad news travels fast. Never has this been more true than in the age of social media and Twitter. Jeff Bezos, CEO of Amazon.com said, "If you make a customer unhappy they won't tell 5 friends, they'll tell 5,000."
One infamous social media scandal that truly exemplifies the power and potential of Twitter is the #McDStories fiasco. Last January, McDonald's launched a Twitter campaign that backfired spectacularly. The campaign was launched with the hashtag #McDStories and the idea was that McDonald's customers would tweet heart-warming stories about family values and Big Macs.
Instead, #McDStories became an outlet for real life McDonald's horror stories. Cue the barrage of tweets about McDonald's related health issues, vomiting, general disgust at the low quality of the meals and the questionable food. Even former employees joined in the chorus of defamation by tweeting their #McDStories about horrifying working conditions. The result wasn't exactly what McDonald's had in mind.
Does this mean that businesses should abandon Twitter campaigns and other social media channels? What this anecdote teaches us is the importance of building positive relationships with customers, and keeping the dialogue open. McDonalds could have avoided this disaster had they been more aware of how consumers felt about their brand. One of the great advantages of Twitter is that it allows effective one-on-one business-to-customer conversation. This is a powerful tool that can provide businesses with high quality feedback, foster trusting relationships and build brand loyalty. The key is to listen first, and speak after.
So is Twitter good for business? Just like all powerful tools, it can be dangerous in the wrong hands. But if used wisely, it can propel your business into the social stratosphere.