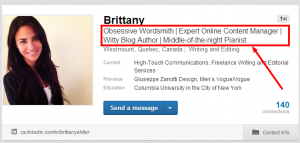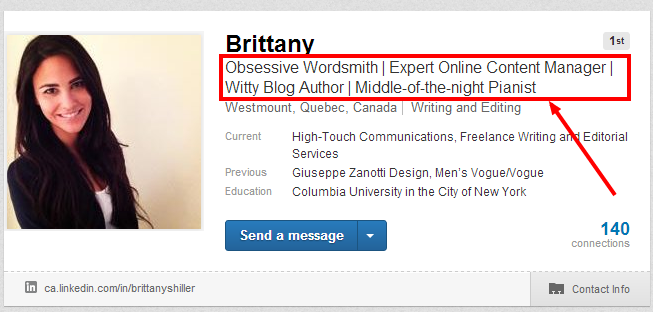 The LinkedIn professional headline is that snippet of text that appears right below your name. As your first handshake with LinkedIn searchers, it is most often compared to an elevator pitch – that 30 to 60 second sales speech you would deliver to Mr. Superstar CEO should you run into him in an elevator. The goal is to say something impressive enough to secure a future meeting, or in the case of your headline, to have a searcher select your profile from the clutter that appears in search results.
The problem is that elevator pitches frequently fail. Often, Mr. Superstar CEO tunes out the spewed rhetoric after five seconds and is praying for the elevator doors to just open already. LinkedIn professional headlines work the same way. If your headline feels too automated, searchers will tune you out. But if you don't say enough, you will let the opportunity slip away. A good first encounter, whether in person or through your LinkedIn headline, can be a powerful marketing tool – as long as you do it right.
So how do you seal the deal?

1. Be Likeable
It's not that the elevator is a bad place to make a business connection. But 'connection' is the key word here, not 'sales pitch'. An investor hears countless pitches a day, all with similar details and promises. The way to stand out from the rest is to show who you are. Business relationships begin with likeability. Use your headline to show searchers that you are the type of person they want to do business with.
Deal-Sealing Example:
Idea Generator and Implementer | Project Manager | Data Geek | Social Media Enthusiast | Coffee Lover
2. State What You Really Do
Simply stating your job title and company name in your professional headline is the equivalent of standing in the elevator and watching the numbers change. It doesn't really say anything about you. Unless you work for an extremely well known corporation, your company name provides no real information. Similarly, most job titles are too generic to give any valuable insight into your actual skills. Aim for your headline to give searchers a 'day-in-the-life' glance of what it means to be you.
Deal-Sealing Example:
I make Social Media Marketing PLAIN & POWERFUL for Corporate Teams | Trainer | LinkedIn addict
3. Make Them Care
The reality is that Mr. Superstar CEO is only interested in how your skills can ultimately benefit him. Similarly, if you simply state what you do, you lead a searcher to ask "so what?" and run the risk of being tuned out. To peak a searchers interest, be clear about the benefits of working with you.
Deal-Sealing Example:
Office Manager specializing in B2B relationships and your next indispensable right-hand man.
4. Speak the Language
You wouldn't spout Java Script to a landscape architect and you wouldn't list tree species to a tech honcho. To be heard, it's important to speak the language. Using the right keywords in your headline ensures that your profile comes up in the right searches. Think of the terms a searcher would use when looking for a person like you. If you are a defense attorney, someone searching for your skills most probably won't use "associate" or "founder". Even though these words are impressive, they won't help your profile appear in results.
Deal-Sealing Example:
IT specialist devoted to creating stable, scalable sysadmin solutions for small business.
5. Take a Breath
A telltale sign of a terrible elevator pitch is that the speaker is breathless by the end. Bombarding your listener with a flood of information is not going to make them want to hear more. Most likely, it will have the opposite effect. The same is true for a professional headline. If your headline is difficult to read, your searchers will lose interest. Aim to make your headline as visually appealing as possible. A good trick is to use vertical bars (aka pipes) to separate job descriptors.
Deal-Sealing Example:
Enthusiastic Writer | Award-Winning Blogger | Knowledge Collector and Sharer | Let's Connect!
Just like any first impression, you only get one chance to do it right. Taking the time to perfect your LinkedIn professional headline can be the difference between getting clicks and getting lost in the crowd. The key to sealing the deal is be yourself, be valuable and be clear.
For more deal-sealing headlines, click here!
We'd love to see your headline updates! Let us know if these tips helped your LinkedIn profile get more clicks!