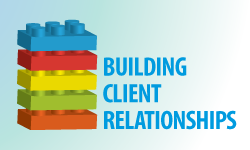 Lego created a customer for life when they gave a 10-year-old boy with Asperger's Syndrome the Lego set of his dreams. It was a simple gesture that had an amazing impact and generated a ton of goodwill from a little boy. Businesses large and small should take measures to have meaningful and long-term client relationships. Here's how to do so in 5 easy steps:
1. Network. Network. Network.
You must network anytime and anywhere, and not just at networking events. You must always be networking. It isn't restricted to professional contacts; you should include friends, family and especially acquaintances. Why acquaintances? According to Reid Hoffman, they expand the breadth of your network. Acquaintances expose you to opportunities that you likely would not have learned about since they communicate in different circles than your own. Essentially, they widen your net. The best vehicle for this is social networking on LinkedIn. Go for quality relationships, not quantity and remember to the be the first to reciprocate – be selfless and connect your contacts. They will remember the goodwill gesture and karma will pay you back sooner than you think. Also, by building your network, you get more visibility into organizations, often times with multiple contacts within each client's company. If you get your contacts talking to each other about how great you are, you benefit by remaining top-of-mind and by getting positive referrals, which increase your pipeline and credibility.
2. Communicate Clearly, Frequently and Transparently
Your clients are busy. Make their lives easier by communicating with them concisely and clearly. Keep them apprised of progress regularly. Act as a true ally, or business partner – be flexible, quick to respond to their requests with solutions that take their long-term goals into account. No one likes a know-it-all; when you're unsure of something let your client know that you will verify the answer and get back to them. With money on the line, it's always better to be sure about an answer than to bluff. Also, when something goes wrong, be the first one to admit it. It will build trust and allow the client to see how you respond when the chips are down (cape & tights are optional). How else can you show them your ability to go above and beyond the call of duty?
3. Love Your Client
Yes, I wrote it – love your client. The first time I heard that concept (from In Treatment, an HBO original series)  – I thought it was odd. Apparently, in order for a therapist (psychiatrist, psychoanalyst, psychologist, take your pick) to effectively treat their "client", the therapist must love them on some level. Then I thought about how much I cared about my clients and realized that I love them too. Not romantically, but I sincerely care about what is going on in their worlds, both personally and professionally. In order to go the extra mile time and time again, you gotta love 'em. It's one thing to be professional and make notes about birthdays and their kids' names. It's a whole other thing when you don't need to because you have made a real connection with them – they can tell when you sincerely care. At HTC I'm very fortunate to sincerely love my clients. On some big projects, it has felt like we've gone through a war together (no disrespect to those who serve) and a special bond was forged. Other clients are such a pleasure to work with, that I invited them to my wedding and felt like I made a personal connection with them. Those are the clients that I'm even prepared to go to war for.
4. Keep in Touch
If you can't make the time to call your clients every 3 months, they might not be your clients for long. Stay in contact and you'll stay top-of-mind. A low cost and extremely effective alternative is to take advantage of email marketing. Remember, it's easier (read less expensive) to sell to an existing customer than a new one. That means nurturing the relationship is more profitable than creating a new one. Show your appreciation and excitement by thanking them a few days after a purchase and keep the excitement level up for all parties.
5. Do Something Amazing
Lego gave away building blocks to build a client relationship; a seemingly small gesture to most, however it meant the world to the customer in question. If you haven't done so already, learn your customer's pain points and identify things you can do to help. It could be a matter of offering advice, sharing resources or providing superiour customer service.
The Bottom Line About Building Client Relationships
I'm a firm believer that work should be fun, even when burning the midnight oil. In my opinion, having strong client relationships makes everything from negotiations to getting referrals a lot easier. After all, if you've done a good job nurturing the relationship, your client would be happy to send more business your way; you've earned it.