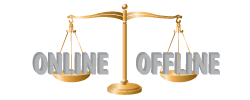 Canadians are well connected. In June 2012, 83% of Canadians were online and 18,573,940 use Facebook. According to The Ipsos Canadian inter@ctive Reid Report 2012 Fact Guide, mobile internet access was at 37% in 2011.  And according to CIRA, "the next billion Internet users will access the Internet via mobile". So what do these stats mean to you? Allow me to explain:
In a world, where the internet has enabled people to strive for a work-life balance by using flextime, home offices and smartphones; the rules of business have changed. People can be working outside of business hours, away from their offices, on mobile devices. Many use social media to stay connected with colleagues, friends and family at all times. And if you want to do business internationally, you should seriously consider mobile internet too.
Similar to the challenges people face when balancing their career and lifestyle; businesses must weigh their options carefully in order to achieve their objectives. Whether your company is B2B or B2C, large or small, it has become widely accepted that a web presence is as necessary as a business card. These days, nearly anything can be bought online: art, books, electronics, groceries, musical instruments and shoes, therefore e-commerce is a viable option for many as well. Businesses must adapt to a changing marketplace and provide the accessibility and services their customers expect. Those who demonstrate leadership and innovation by anticipating what their customers want will benefit even more.
Here are some examples of online and offline initiatives working in harmony:
In an integrated marketing communications (IMC) campaign that uses print ads with QR codes to drive traffic to the website; where customers would find more information, enter a contest or make a purchase.
Customers could gather product information and print a coupon, then go to a retail store to make the purchase.
Self-service functionality on an ecommerce site (e.g. inventory look-up and order status) could reduce customer service calls and wait times – which would give customer service representatives more time to offer upsells and accessories.
Consider the following examples of online and offline initiatives:
| | |
| --- | --- |
| Online | Offline |
| Search engine optimization and online advertising | Advertise in print, radio and or television |
| Build trust using social media and blog | Build stores |
| Send targeted, personalized offers | Direct mail campaigns |
| Provide customers self-service features | Use sales reps to create relationships |
| Expand your reseller network using APIs | Set up franchises |
| Develop apps and/or mobile sites | Print catalogues and fact sheets |
| Gain efficiencies by automating processes | Hire more staff |
If you have a clear description of your target market and where your growth opportunities are, then the answers to the following questions will guide your decision on how to balance your online and offline resources:
How do customers find out about us?
How do they want to interact with us?
What do they want to do with us?
How do they want to work with us?
How do we encourage them to do repeat business?
How can we make things easier for them?
How can we increase customer satisfaction?
How can we reduce costs?
How can we improve processes?
How can we increase profitability?
The bottom line is this: there is no one-size fits all formula. The answers could be different for companies within the same industry. In your quest to grow your business, reduce costs and increase customer satisfaction, your decisions will need to be guided by more than gut instincts, you need to consult data about how your customers shop and the direction your industry is going. Doing so will help you prioritize your resources and "shoot where the ducks are".
Take a moment to share your experience or questions with us in the comments section below. How have you created balance in your business? Looking forward to hearing what you have to say.