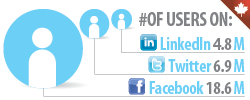 As a Canadian marketer and firm believer in the value of social media with respect to business, I'm often curious about the state of social media adoption in the true north strong and free. In Canada, there are approximately 18.6 million Facebook users, 6.9 million Twitter users and 4.8 million LinkedIn users representing a significant part of our 34.4 million total population. What interests me more is the data behind companies using social media strategically to engage their markets and become better marketers. Finally, I'm always interested in substantiating my contentions that there is real business intelligence to be derived from social media channels discussing brands, products and services.
An Opportunity to Lead
Social media activity should be integrated within the core dashboard of metrics available to executive management when evaluating performance of business activities. Canadian companies are missing some of the richest and most valuable information available to them. "Canadians are thorough in their evaluation, but slower to take things up," said Lori Bieda, executive lead of customer intelligence for SAS Canada. With sluggishness comes opportunity, and early adopters and first movers have advantages to gain.
Generate Valuable Insight
Stanford University recently published a study gauging social media's use at the senior management level within a sample of 184 organizations spanning various industries and revenue levels. The study that ran between May and June 2012, found that less than one quarter (23.6 percent) of the respondents receives reports containing summary metrics from social media. Only 14.2 percent of the respondents claim to use information gathered from social media as part of the key performance indicators (KPI) that track the success of business activities within their companies. The most compelling figure to me was that out of the companies that do receive reporting from social media, 95.2 percent find the information either very useful or at least moderately useful.
Engage and Create a Conversation
Just last year, a Leger Marketing survey found that 30 percent of 1,000 Canadian executives surveyed said their company regularly monitors social media websites for mentions, while only 17 percent claimed that their companies participated and monitored simultaneously. Although the Leger survey did not detail the extent of reporting and inclusion of social media metrics in KPI tracking, it is safe to contend that the majority of Canadian organizations are not gaining the insight and valuable intelligence directly from the communities they should be engaging and measuring.
Does your company track the social media activity surrounding your brand? How is this information used?  And how helpful was it in guiding strategic initiatives?